Commitment + Clinical Leadership = Better Outcomes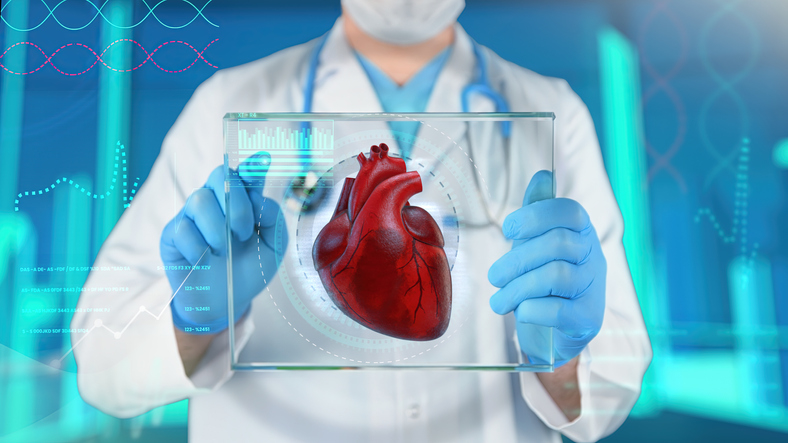 11 Heart Disease Facts
Jan. 28th, 2023
Heart disease is preventable
Heart disease can be preventable by living a heart-healthy lifestyle. While there is no guaranteed way to 100% protect yourself against heart disease, some ways to reduce your risk include:1
Getting 30-60 minutes of physical activity each day
Eating a healthy diet filled with fruits and vegetables
Maintaining a healthy weight
Getting at least 7 hours of sleep at night
Coronary heart disease is the most common type
It is estimated that roughly 18.2 million Americans have coronary heart disease, which makes it the most common type of heart disease. Coronary heart disease occurs when the arteries can't deliver enough oxygen-rich blood to the heart.2
The United States spends $219 billion on heart disease
Each year, the United States spends $219 billion on heart disease. This cost includes health care services and appointments, medications, and care needed.3
Some people are more at risk
Another heart disease fact is some people are more at risk than others. A few risk factors for heart disease include physical inactivity, an unhealthy diet, high blood pressure, high LDL cholesterol, obesity, smoking, and exposure to secondhand smoke.4
About 1 in 3 Americans are estimated to possess one of the risk factors
It is estimated that 1 in 3 Americans – or 47% – possess one of the risk factors of heart disease. The risk factors most Americans have include high cholesterol, high blood pressure, and smoking.5
It is estimated heart disease accounts for 1 in 5 deaths
Heart disease accounts for roughly 1 in 5 deaths in the United States. Another fact about heart disease is experts estimate that around 697,000 people die of this condition each year.6
According to the CDC, an American will have a heart attack every 40 seconds
It is estimated that an American will have a heart attack every 40 seconds. Each year, 805,000 Americans will have a heart attack, with 605,000 having one for the first time.7
Heart disease affects both genders
Heart disease affects both men and women. It is estimated that one in four women will die within a year of their first heart attack; for men, it is one in five.8
Sometimes, heart disease does not show any symptoms
Generally, the symptoms of heart disease will depend on the type you have. However, heart disease will often not show any symptoms, and it may only be discovered after a serious complication (such as a heart attack).9
There are treatments for heart disease
If you or a loved one has heart disease, luckily it can be treated. Some of the treatments include lifestyle changes (such as eating a low-fat diet, getting more sleep, being active, or quitting smoking) while others involve prescription medications. For more serious cases, surgery may be needed to repair the heart.10
There are programs designed to help those with heart disease
If someone has heart disease, there are support systems available. Cardiac rehabilitation are programs designed for people who experience heart attacks, heart failure, or heart surgery. These programs may involve counseling, physical activity, healthy eating plans, and prescription medications.11
Learn More about Heart Disease
If you or a loved one have heart disease, contact a medical professional for more information. A doctor can guide you through your condition and give you the necessary tools to be successful in preventing your heart disease from worsening. They will be able to provide you with the heart disease facts specific to your case.
Saber Healthcare is an organization that provides skilled nursing care, rehabilitation, and assisted living services across the communities that we serve. To learn more about Saber Healthcare, click here.
Saber Healthcare is an organization dedicated to providing consultant services to long term care providers. This article is for informational purposes and is not meant to be seen as professional advice. Please consult with a medical expert before relying on the information provided.
Sources
"Strategies to Prevent Heart Disease." Mayo Foundation for Medical Education and Research (MFMER). 14 January 2022. Accessed 6 January 2023. Link: https://www.mayoclinic.org/diseases-conditions/heart-disease/in-depth/heart-disease-prevention/art-20046502
"What Is Coronary Heart Disease?" National Lung, Heart, and Blood Institute. 24 March 2022. Accessed 6 January 2023. Link: https://www.nhlbi.nih.gov/health/coronary-heart-disease
"Health Topics – Heart Disease and Heart Attack." Centers for Disease Control and Prevention. 17 August 2021. Accessed 6 January 2023. Link: https://www.cdc.gov/policy/polaris/healthtopics/heartdisease/index.html#:~:text=Economic%20Burden,about%20%24219%20billion%20each%20year.
"Heart Disease and Stroke." Centers for Disease Control and Prevention. 8 September 2022. Accessed 6 January 2023. Link: https://www.cdc.gov/chronicdisease/resources/publications/factsheets/heart-disease-stroke.htm#:~:text=Leading%20risk%20factors%20for%20heart,unhealthy%20diet%2C%20and%20physical%20inactivity.
"Know Your Risk for Heart Disease." Centers for Disease Control and Prevention. 9 December 2019. Accessed 6 January 2023. Link: https://www.cdc.gov/heartdisease/risk_factors.htm
"Heart Disease and Stroke Prevention." New York State Department of Health. August 2022. Accessed 6 January 2023. Link: https://www.health.ny.gov/diseases/cardiovascular/heart_disease/
Weatherspoon, Deborah. "Heart Disease: Facts, Statistics, and You." Red Ventures, Healthline Media. 16 July 2020. Accessed 6 January 2023. Link: https://www.healthline.com/health/heart-disease/statistics#Who-is-at-risk?
"HeartCare + Health Tips. Better Together." Placentia-Linda Hospital. 1 October 2019. Accessed 6 January 2023. Link: https://www.placentialinda.com/home/newsroom/know-the-facts-about-cardiovascular-disease
"Heart Diseases." Medline Plus. 2 September 2022. Accessed 6 January 2023. Link: https://medlineplus.gov/heartdiseases.html
"Heart disease." Mayo Foundation for Medical Education and Research. 25 August 2022. Accessed 6 January 2023. Link: https://www.mayoclinic.org/diseases-conditions/heart-disease/diagnosis-treatment/drc-20353124#:~:text=Heart%20disease%20treatment%20depends%20on,an%20important%20part%20of%20treatment.
"About Heart Disease." Centers for Disease Control and Prevention. 12 July 2022. Accessed 6 January 2023. Link: https://www.cdc.gov/heartdisease/about.htm