Commitment + Clinical Leadership = Better Outcomes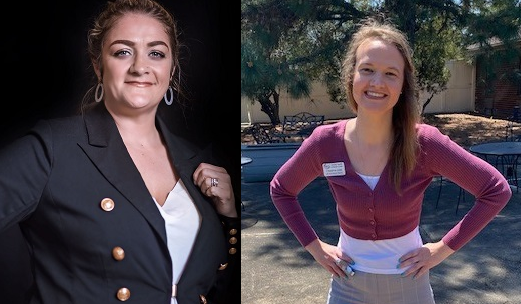 Celebrating Activity Professionals Day
Jan. 27th, 2023
Photo, from left to right: Kristina Baker, Cheyenne Loisel
January 27th is Activity Professionals Day. Here at Saber Healthcare, our Life Enrichment departments are in charge of planning and setting up activities for residents. The goal of our Life Enrichment department is to keep our residents engaged, as well as help them explore their creativity while socializing.
We're highlighting two Life Enrichment Directors from different communities: Cheyenne Loisel, Life Enrichment Director at Portside Health and Rehab, and Kristina Baker, Life Enrichment Director at Valley Hill Health and Rehab. They shared what a normal day looks like for them, as well as what they love about their job.
"I am grateful for the opportunity to grow at Saber Healthcare," Loisel shared. "I started as an assistant, moved into the role of director, and now I have the opportunity to take classes to further my education."
"I love our Port of Call program, which is a monthly activity where residents can experience a different city or country. Saber offering that program is amazing," Baker said. "I also like that Saber has someone directly committed to making improvements to our department and programming opportunities."
How Did You Get Where You Are Today?
Loisel explained that she graduated from Old Dominion University with a degree in recreational therapy. She chose long-term care because she was always close with her grandma, and she knew that she wanted to work with the older population.
Baker first saw an activities assistant job in the newspaper back in 2005, and she told us that she thought it would be a good fit because of her creativity. Since then, she's worked as an activities assistant and a director. She said her first job in activities, and the Administrator she worked under, really kickstarted her love for long-term care.
What Does a Day in Your Role Look Like?
Baker said a normal day in her role can change each day. She is responsible for a variety of duties at the building, and there is something new happening every time she walks in the door.
"The Life Enrichment team can be in charge of painting nails, sewing buttons, passing out trays, and story hour. Our community tasks us with anything that needs to be done. I will do whatever it takes," Baker shared.
Loisel gave us a run through of her typical work day.
"I come in early and go over the assessments and activities for the day. We have a meeting with all the department heads within the community, and then we begin our activities," Loisel explained. "Some of the activities we do include music, reading, coffee and news, and exercise. My team will also help in the dining room whenever we are needed. After that, we will continue the activities throughout the evening, such as karaoke or bingo."
What is the Importance of Activities?
"During the pandemic, I realized when the residents were in their room versus being in a group, they felt isolated. It brought their morale down," Loisel shared. "Being with their friends and having fun while doing activities put smiles on their faces."
"They residents want to feel needed and important," Baker said. "I try my best to make sure that they feel valued and know that they are not forgotten."
What Are Your Favorite Activities to Do With Residents?
Baker said her favorite activities to do with the residents involve getting out into the community from time to time.
"We like to go, see, and do things. The residents at Valley Hill Health and Rehab like to be a part of the community," Baker shared. "We visit the movies, grocery store, Blue Ridge Mountains, the boys and girls club, and have lunch. The residents enjoy being out and about."
More of her favorite activities at the community include wine and design, bingo, and crafts.
"Karaoke always puts a smile on everyone's face," Loisel said.
Loisel shared that she also enjoys doing nails with the residents because it gives them more one-on-one time. She also enjoys bingo and decorating for the holidays.
What is Your Favorite Part About Your Role?
Loisel and Baker shared their favorite part about their role as a Life Enrichment Director.
"My favorite part is bringing a smile to the residents' faces," Loisel stated. "I like seeing them happy and out of their rooms."
Loisel added that she enjoys working with other departments in the community and being able to learn from them.
"I love that I'm the bingo lady," Baker shared.
Baker explained that it takes everyone in the community to work together and be there for the residents. She enjoys the role she plays in making them happy.
What is One Thing You've Learned?
"COVID-19 has changed how activities were ran and it was an adjustment for me," Baker said. "However, Saber did a great job throughout the pandemic, and we were able to adapt when needed. I learned that you will get what you put into your role."
"I've learned that no days are going to be the same," Loisel shared. "It's important to be flexible, understanding, and patient."
Saber Healthcare Appreciates Our Activities Professionals
Here at Saber Healthcare, we appreciate our Life Enrichment teams who work hard to help our residents enjoy fun activities each day.
If you're interested in joining our Life Enrichment team, click here to check out the available roles near you.
Saber Healthcare is an organization dedicated to providing consultant services to long-term care providers. This article is for informational purposes and is not meant to be seen as professional advice. Please consult with a medical expert before relying on the information provided.