Commitment + Clinical Leadership = Better Outcomes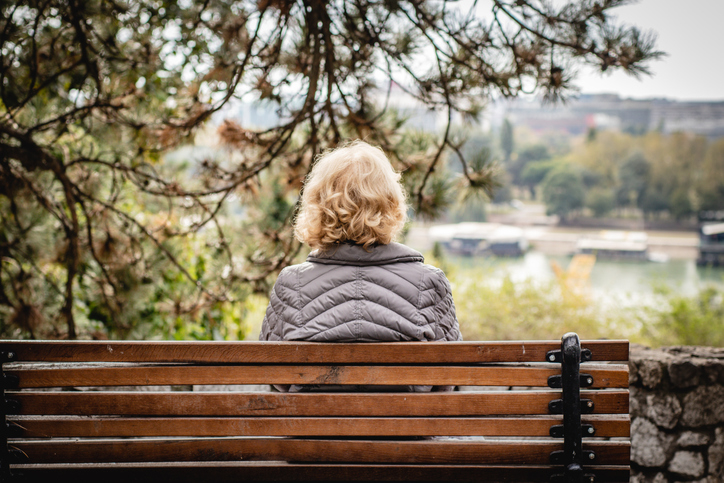 5 Ways To Help Seniors Feel Less Lonely
Jan. 28th, 2022
According to a study done by The University of California, more than 40% of seniors regularly experience loneliness.1
Loneliness puts seniors more at risk for health conditions that can impact their physical and emotional state, such as depression and anxiety.
Some shocking statistics of seniors who are lonely include:2
Dementia. People who are lonely are 64% more likely to develop clinical dementia.
The common cold. People who are lonely reported in a study that they have 5% more severe symptoms than someone who is not lonely.
Coronary bypass mortality. Seniors who are lonely have a 5 times higher mortality rate than those who aren't lonely.
It's important to let our senior family members and friends in our lives know that they are loved and appreciated. Here are 5 ways that you can help seniors feel less lonely.
Phone Calls
Frequent phone calls to your senior loved one is one way to help them feel less lonely. Phone calls are a way for you to check in on your senior loved one and catch up with them with an enjoyable conversation, especially if you live far apart.
You can call your senior loved one once or twice a month to tell them they're in your thoughts. If you have time, calling a senior loved one once a week can help you check in on them more frequently.
If your senior loved one knows how to use a computer, video calls are a great way for them to feel a more personal connection during a conversation. They'll be able to see you, and if they have any grandkids, they can join in on the conversation as well.
Encourage New Hobbies
One way to encourage your senior loved one to stay active is to help them find new hobbies. It's important for seniors to stay active and involved in their community to help prevent them from feeling isolated and lonely.
Some fun hobbies that are easy for seniors to start include:
Knitting. Knitting is a great way for seniors to use their creativity while learning a new skill. There are many classes and books available to help someone learn how to knit.
Senior fitness classes. Many community gyms offer senior fitness classes that help older adults regain and maintain their strength. This is a great way for your senior loved one to go socialize and get a workout with others their age.
Reading. If your senior loved one enjoys books, consider helping them find novels that they can read in their free time. There are also local book clubs available for seniors to help them meet others who share their passion for reading!
Gardening. Gardening is a great way for seniors to stay active while enjoying nature. If your senior loved one is unable to go outside, there are a variety of indoor plants that they can grow as well.
Art. Art is a way for a senior to learn a new skill while using some of their creativity. Your senior loved one can enroll in an art class or learn at their own pace in the comfort of their home. There are many different artistic techniques your loved one can learn, from shading to drawing realism.
Write letters
Writing letters to a senior loved one can be a great way to help them feel less lonely. This can help seniors connect to someone even if they're far away, especially if they don't know how to email or use technology.3
Letters give seniors a personal connection to someone. They are able to write back directly and tell you their story. In turn, they'll get to learn more about you and what the younger generations are experiencing in life.
Many nursing homes and senior centers offer pen pal programs to help those who might not have loved ones nearby. You can sign up for one of these programs and form a friendship with a senior in your community.
Adopt a Pet
If your loved one is willing and able, adopting a pet is a great way for a senior to cope with loneliness. Pets can give your loved one a way to feel a sense of connection and companionship.
It's been proven that spending time with an animal can improve someone's mental health. A 2016 study found that pets give a sense of security and routine, which can help provide emotional support to an individual. Pets have also been proven in other studies to be a facilitator in forming friendships and connections to others.4
Adopting a pet can be one way that your senior loved one helps rediscover their sense of belonging. Animals can also provide your loved one with comfort when they feel alone, which can help them get through days when they feel lonely, anxious, or depressed.
Regular Exercise
Encouraging your loved one to stay active is one way that they can help feel less lonely during the day. Exercising can give your loved one a sense of purpose and help them find new goals to achieve.
It's recommended that beginners start with exercises that are easy on their joints to ensure that they don't injure themselves. Some examples of low-impact exercises that seniors at any age can try are:5
Walking. Walking is an easy exercise that anyone can pick up because it doesn't involve any equipment. Studies show that walking for 30 minutes a day for 5 days a week may help reduce your chances of heart disease by 19%.
Swimming. Water is easy on the joints, which makes it a great activity for seniors to pick up, even if they have arthritis. Swimming can help a senior build their heart and lung strength over time.
Yoga. There are many different levels and techniques for yoga, which makes it an accessible activity at any age. Yoga can help your loved one de-stress and relax while they stretch.
Pilates. Pilates is an exercise activity that is often recommended for those who just underwent rehabilitation, making it an accessible exercise to people who may have just gone through a rehab program. Pilates can help your senior loved one work out their core and build overall strength.
Help Seniors Feel Less Lonely Today
Help prevent senior loneliness by reaching out to your loved one and encouraging them to find ways to become more active during the day. It's important to let the seniors we love know that they aren't alone and that we appreciate everything they do!
To learn more about Saber Healthcare and the services we offer, click here.
Saber Healthcare is an organization dedicated to providing consultant services to long term care providers. This article is for informational purposes and is not meant to be seen as professional advice. Please consult with a medical expert before relying on the information provided.
Sources