Commitment + Clinical Leadership = Better Outcomes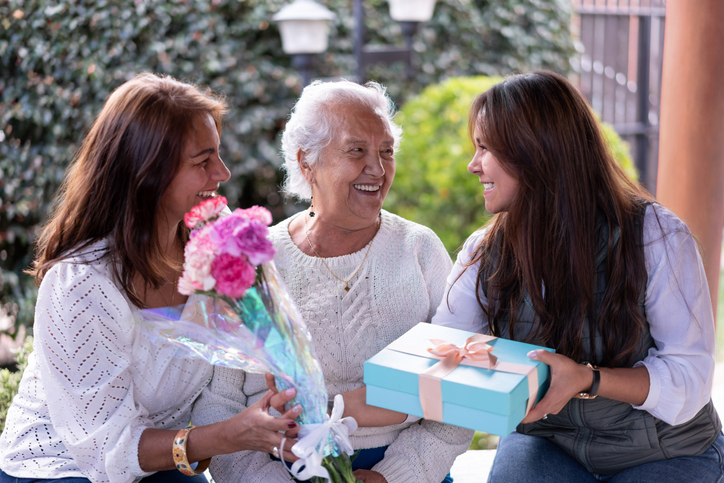 Mother's Day Gift Ideas
May. 5th, 2022
Every year, Mother's Day is the time to say "thank you" for the love our mothers have shown over the year. Many moms focus on raising their kids while simultaneously working a job and taking care of many other responsibilities. A mother's care and work should not go unnoticed!
Are you looking for gift ideas while shopping for mom? Here is a list of Mother's Day gift ideas you can use to find the perfect item for your mom this year.
Food and Kitchen Ideas:
Chocolate
Who doesn't love chocolate? Gifting your mother a box of her favorite brand of chocolate is one way you can tell her "thank you" this year!
Homemade cookies
If you love to bake, consider making your mother some homemade cookies for Mother's Day. Not only will she appreciate the time you took to bake them yourself, but you can also make them in her favorite flavor as well. Bonus points if you use food coloring to make them her favorite color!
Restaurant gift cards
Does your mom like to go out to eat at a particular restaurant? Giving her a gift card to her favorite establishment is one gift idea for you to give her this Mother's Day.
If you want to take it a step further, you can book a reservation at her favorite restaurant and go out to eat there on Mother's Day!
Cookbook
A cookbook is a great gift idea for the mom who loves experimenting with new recipes. Whether your mom loves food from Italy, France, Mexico, or Germany, there are cookbook options that fit her interests and tastes.
You can also look through the book beforehand and buy some ingredients to try making one of the recipes together!
Pots and pans
Pots and pans are a great gift for the mom who cooks frequently. Over the years, pots and pans may wear out and need replacing. You can purchase a new set for your mom to help her update old cooking tools.
Mugs
Mugs make a fun Mother's Day gift because you can find them in all shapes and colors. You can find a mug with an inspirational quote, a funny phrase, or a pattern that you know she will like.
Food/Dessert Delivery
If you don't live close to your mother, you can always send her a food/dessert delivery gift! Many vendors will take orders and deliver food on Mother's Day, from cakes to cupcakes to macaroons.
Beauty ideas:
A trip to the spa
A spa trip is one Mother's Day gift idea that can help your mom relax and enjoy herself. You can offer to pay for your mom's spa trip to give her the gift of self-care.
Face masks
You can buy your mom some face masks to use as part of her skincare routine. There are many different types of face masks, from ones that moisturize to others that help improve the skin's appearance. Ask your mom about her skin type and choose a set of face masks with a formula that can help enhance her skin!
Makeup
Makeup can be a thoughtful gift, especially if your mom has old or expired products. You can buy her a new palette to freshen up her everyday looks or supply new beauty brushes to help with her everyday routine.
Jewelry
Does your mom have a certain stone that's her favorite, such as an emerald or a sapphire? If you're looking for a sentimental gift, buy her jewelry with a stone that she would like. You can also add a personal engraving to make the gift more sentimental.
Soap or lotion
Soap and lotion can be a thoughtful gift, especially if your mother struggles with dry skin. You can find soaps and lotions of every scent at different price points depending on your budget.
Homemade items:
Mother's Day card
Making your mom a handmade card can be a great way to express your gratitude. You can decorate the card with glitter, floral decorations, fun spring animals, and nice drawings that illustrate your appreciation.
Write a nice message on the card that thanks your mom for everything she has done for the family over the years.
Handmade scarf
If you enjoy knitting or sewing, a handmade scarf is a wonderful gift for Mother's Day. You can create the scarf in her favorite color or try using a material with a pattern she will enjoy.
Handmade candles
Candles are a nice gift because they can be enjoyed during a cozy evening when watching a movie or reading a book. You can create handmade candles by melting wax and using fragrance oils to make the perfect color and scent.
Hand-painted mug
A hand-painted mug is a good gift because it can be used in the kitchen or as a holder for pens and pencils. You can create a ceramic mug from scratch or visit a local ceramic shop with premade designs that you can paint.
Custom Scrapbook
If your mother has many photos of the family, making a family scrapbook is a fun way she can relive her favorite memories. You can create a handmade scrapbook or use a service that will make one and deliver it to your door. Use family photos of gatherings, holidays, fun events, and meaningful times to make the scrapbook special!
You can check out our full list of homemade gift ideas here.
Fitness
Gym membership
Does your mom currently aspire to work out more? A gym membership is a good gift for a mom who wants to stay active as she ages. You can purchase a yearly gym membership or one that lasts a few months depending on her workout interests.
Workout equipment
If your mom wants to do some exercise at home, you can purchase workout equipment for her to use around the house. Yoga mats, weights, an exercise ball, or a treadmill are some ideas for workout equipment you can buy to frequently use at home.
Gym clothes
If your mom currently likes to go to the gym or work out, consider buying her a new set of gym clothes. Over time, gym clothes can wear out and the elastic can stretch. Having fresh gym clothes can help your mom stay safe and comfortable while moving.
Home workout videos
Home workout videos are a great way for your mom to get moving while staying at the house. There are many home workout routines available that can fit your mother's interests and physical capabilities.
Step counter or watch
A step counter is a good Mother's Day gift if your mom enjoys walking or jogging long distances. A step counter can help her track weekly progress and help her reach her step goals. Or, if she's interested in tracking other workouts, such as barre or pilates, an athletic watch is a great option too.
Home
New Blanket or Quilt
A new blanket or quilt makes a perfect Mother's Day gift for the mom who wants to stay cozy during the nighttime. You can find blankets made of different materials, from cotton to Sherpa, depending on what texture your mother will enjoy.
Stuffed animals
Stuffed animals make a unique gift, especially if your mom has dementia or is no longer able to care for a pet. You can purchase a stuffed animal of any size or price depending on her interests and your budget.
Flowers/plants
Flowers or plants make a great gift for someone who enjoys gardening. You can buy plants for your mother's garden outside or choose indoor options if she lives in a smaller complex.
Clock
Clocks are beautiful indoor decorations that come in all shapes and sizes. You can find decorative clocks or ones that run on the more practical side.
Comfortable Chair
Who doesn't love a comfortable chair by the fireplace? You can find your mother a comfortable chair that she can use in the evening when she is reading books or relaxing or watching television.
Painting
A brand new painting can help brighten up any living room. You can buy a replica painting from one of your mother's favorite artists or find a unique one from an artist in your local community.
Entertainment
Movies
Does your mom have a favorite movie? Or perhaps you know of a movie that she would love that you recently saw.
You can buy your mom a movie for Mother's Day and spend time watching the film together. To make the movie night even more fun, you can bring popcorn, chips, and other snacks for everyone to enjoy!
CDs
If your mom enjoys a favorite band or musician, consider buying her a CD that she can play in the house or car. You can also help her transfer the music to her phone so she can take her favorite songs wherever she goes.
Books
Books are a good gift for the mom who enjoys reading. You can purchase the latest release from her favorite author or buy a beautiful copy of a classic she already loves. If she reads a lot, consider buying a kindle so that she can download books and have them all in one place.
Computer
If your mother hasn't updated her computer in a while, consider buying her a new laptop for Mother's Day. You can find a computer that fits her needs, from ones that can flip into a tablet to others that are designed for running complex programs such as Photoshop.
Phone
A new phone is a great gift for mom because she can get the latest technology that she needs to enjoy phone and video calls. If your mom is older and unfamiliar with newer cell phones, you can take time to teach her how to use them to communicate.
Clothes
Scarf
Scarves are a great accessory that can be worn any time of the year. There are lightweight or heavy scarves depending on your mom's preference. You can help find your mom a scarf that compliments one of her best looks!
Sun hat
As the summer approaches, your mom will be spending more time outside in the sun. A sun hat is a great way to help her keep the sun out of her eyes, especially when she visits the pool.
New dress
A new dress is a good gift for Mother's day because you can give your mom a brand new look. You can pick a dress out from her favorite boutique or surprise her with a design that compliments her shape.
Slippers
Slippers make a thoughtful gift because they can be worn around the house and keep your mother's feet warm. If your mom is prone to falls, you can buy slippers designed with beads or nonslip material to help her balance herself.
Happy Mother's Day!
Here at Saber Healthcare, we wish you and your family a happy Mother's Day! We hope you take this time to tell your mom "thank you" for everything that she has done for your family over the years.
Saber Healthcare is an organization that provides services to more than 115 buildings across the states of Ohio, Pennsylvania, Virginia, North Carolina, Indiana, Delaware, and Florida. To learn more about our company and services, click here.
Saber Healthcare is an organization dedicated to providing consultant services to long-term care providers. This article is for informational purposes and is not meant to be seen as professional advice. Please consult with a medical expert before relying on the information provided.