Commitment + Clinical Leadership = Better Outcomes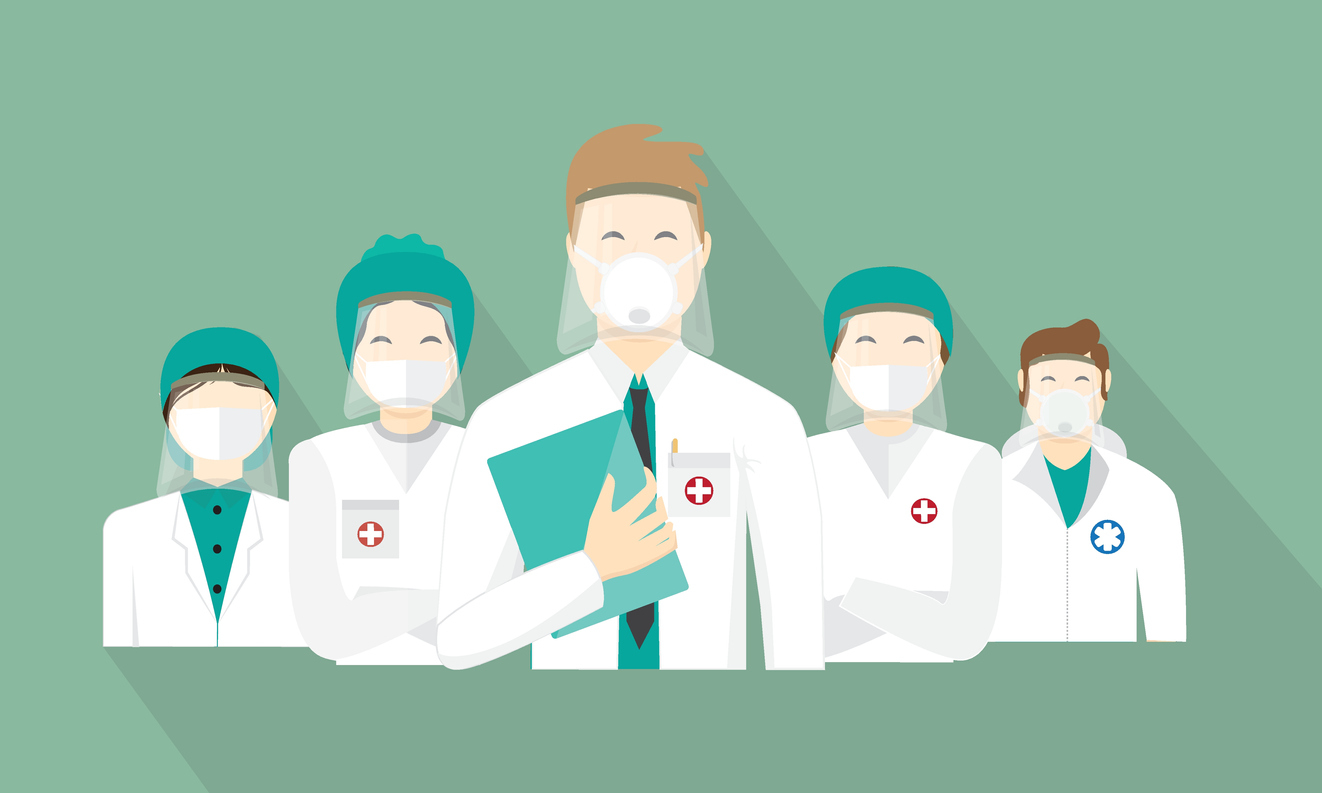 National Physicians Week
Mar. 31st, 2021
March 25th – March 31st is National Physicians Week. Physicians can be found in nursing homes, hospitals, healthcare organizations, private practices, and more. This week is dedicated to celebrating physicians as healthcare heroes because they put forth their best effort to help their patients.
We had the chance to interview Saber Healthcare's Chief Medical Officer, Dr. Nancy Istenes, to learn more about physicians and what we can do to celebrate them and their hard work.
"It's an incredibly rewarding profession and even after all these years, I'd go back and do it all again," Dr. Istenes shared when asked about her career as a physician.
What is this week about?
Physicians Working Together launched National Physicians Week in 2016. Physicians Working Together is a non-profit organization, founded by Kimberly Jackson in 2015, for physicians and medical students.1 This organization is known as an advocacy group and a support network for those in the medical field.
This year, Physicians Working Together has a specific goal in mind to celebrate National Physicians Week: end the COVID-19 pandemic together. As difficult as the pandemic has been, physicians have continued to treat their patients and help educate people with the science behind COVID-19 to help spread awareness.
What Does It Take to Become a Physician?
Physicians spend a great amount of time, effort, and dedication earning their degree and gaining experience needed to work in the medical field. We asked Dr. Istenes what kind of education it takes to become a physician, as well as what an aspiring physician can expect during this timeline.
"The first step in becoming a physician is completing an undergraduate degree. Although there is not a specific degree or major necessary, there are certain prerequisites that will be needed, including numerous science and math courses," Dr. Istenes said.
Towards the end of an undergraduate degree, a student prepping for medical school will take the Medical College Admission Test (MCAT). The MCAT is required for acceptance into most medical schools in the United States, and it tests for knowledge and problem-solving of specific scientific principles.
Medical school is typically completed in four years. Dr. Istenes told us that the first two years were classroom based lectures, while the last two years are spent out in the field and in medical rotations.
Toward the end of medical school, the student has the chance to decide what specialty they favor and apply for residency. Most residencies will take place at an academic teaching hospital. Residency is typically three to five years, and can be followed up with a fellowship that allows the student to specialize in an area of medicine.
Dr. Istenes discussed what her path to becoming a physician looked like.
"I graduated with an undergraduate degree in biology, attended medical school, completed three years of internal medicine residency, and then pursued a fellowship in Geriatrics," Dr. Istenes said.
Advice for Aspiring Physicians
Becoming a physician requires a fundamental understanding of scientific concepts, knowledge of a given specialty, and a passion for helping people. We asked Dr. Istenes to share her best advice for those individuals who are aspiring to become a physician.
One piece of advice Dr. Istenes gave was to explore all the various specialties that exist and to find one you're passionate about.
"This is going to be your career and your art for the rest of your life," Dr. Istenes said. "You get to do what you're passionate about every day."
Dr. Istenes added that physicians will deal with a lot of stress and critical decisions, but there is no doubt that each day a physician gets to go home knowing they made a difference in someone's life.
What Physicians Do in Saber Healthcare's Communities
We are all aware of the significant impact that physicians make each and every day. Physicians are in every aspect and niche in healthcare, from pediatrics to geriatrics.
Physicians are a vital part to Saber Healthcare's communities. They help residents maintain their health and receive the medical attention that they need.
Dr. Istenes explained that each of our communities contract physicians for a certain amount of time each week. The days and times they visit each community will depend on the residents' needs. The physicians that work at our communities include Medical Directors, attending physicians, and physicians of various specialties. Many of our Medical Directors are Geriatricians, which are physicians who specialize in the treatment of older adults.
In addition to our physicians seeing the residents in our communities, they also meet with the Administrators, DONs, and pharmacists monthly. This gives our team the chance to see how the community is performing clinically and how to better enhance the care that is delivered.
"Physicians visiting long-term care communities are a special type of doctor," Dr. Istenes described. "They are a special breed of people who enjoy taking care of the frailest of the frail and the sickest of the sick. They find great reward in their work."
Dr. Istenes shared that although there can be challenges working in long-term care, there are also many advantages. The physicians not only help residents, but they take care of families too. They are consistently communicating with residents' families because they are active and involved in their loved one's life.
Dr. Istenes added that there are numerous disciplines in long-term care including therapy, social work, dietetics, and more. Everyone works together as an interdisciplinary team, which provides a collaborative and distinct community.
Physicians During the Pandemic
As we celebrate National Physicians Week, we cannot let the work of our physicians throughout the COVID-19 pandemic go unnoticed.
"When you talk about frontline heroes, our physicians came in to buildings and continued to see patients," Dr. Istenes shared. "They were incredibly dedicated. No matter what, they came in, wore personal protective equipment (PPE), and did what they had to do."
Dr. Istenes added that not only did our physicians take care of the residents, but they expressed care and concern for the rest of the staff as well. She mentioned that our physicians spoke to the nurses and explained COVID-19 as more medical science came out. They were able to provide our team with a true, accurate, and scientific perspective on COVID-19, as well as health information that could be used to keep our residents and staff safe.
"As physicians, we're medical doctors, but there is also a teaching component. We teach and train medical students, the nurses we work with, patients, and their families," Dr. Istenes said. "Physicians really are the frontline heroes."
Saber Healthcare Supports National Physicians Week
Saber Healthcare is proud to support National Physicians Week. We are extremely grateful for the physicians we have in our communities that make a positive impact in our residents' lives.
We thank all the physicians in our various communities for the work that they do each and every day.
Join us in celebrating all physicians this week!
Saber Healthcare is an organization dedicated to providing consultant services to long term care providers. This article is for informational purposes and is not meant to be seen as professional advice. Please consult with a medical expert before relying on the information provided.
Sources:
"National Physicians Week 2021." Physicians Working Together, physiciansworkingtogether.org. Accessed March 22nd, 2021. https://www.physiciansworkingtogether.org/national-physicians-week.