Commitment + Clinical Leadership = Better Outcomes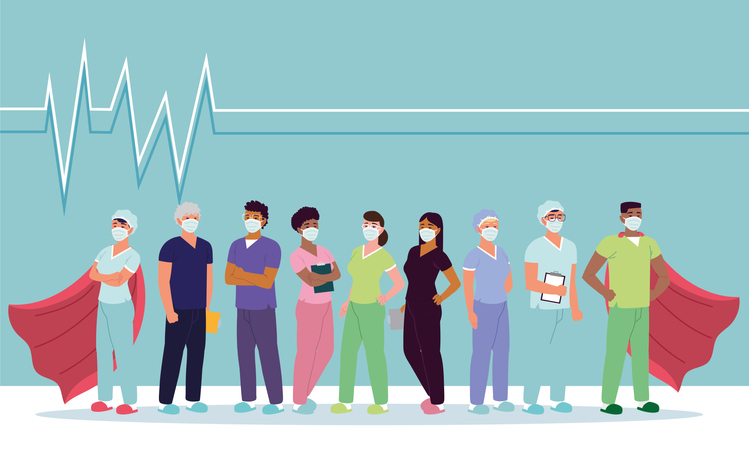 Celebrating Nurses Week
May. 10th, 2022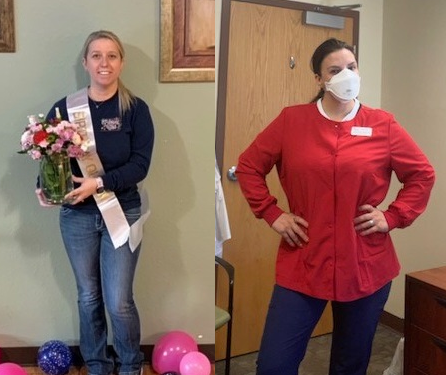 Photo, left to right: Tabaitha Ray and Amanda Morgan
May 6-12th is National Nurses Week. This week, we celebrate our nurses and all they do for the residents in our long-term care communities.
We interviewed two nurses from two different communities: Tabaitha Ray and Amanda Morgan.
Ray has been with Saber Healthcare for 14 years and is currently the Director of Nursing at St. James Health and Rehab in Florida.
"Nursing is the most rewarding thing you can do in your life," Ray shared. "If you're looking for a career to mean something and if you have that passion to help people, the residents will change your life."
Morgan is the Director of Nursing at Falls Run Nursing and Rehabilitation in Virginia. She has worked with Saber Healthcare for over 12 years.
"This is my home away from home," Morgan said. "The residents know me, and I know them. My team also plays a huge part in why I love my job."
How Did You Get to Where You Are Today?
We asked Ray and Morgan how they got to where they are today and why they decided to become a nurse.
Ray has been a nurse for over 17 years now, and has experience working in an ICU as well as geriatrics. Ray began her career in healthcare as an LPN, transitioned into being a unit manager, became assistant director of nursing, and is now the Director of Nursing. Ray said she decided to go into nursing because she knew she wanted to further her education.
"Saber paid for me to go back to school. The CEO and Vice President were the ones who encouraged me to go back," Ray shared. "We have a really good company. They really care about each and every employee."
Morgan said she saw a commercial about what nurses do and she decided she wanted to go into nursing. Morgan began her career as an LPN, then transitioned into being a wound care nurse. She eventually became a charge nurse and decided to go back to school to become a registered nurse. After graduating with her degree, she transitioned into the assistant director of nursing role and is now the Director of Nursing.
"I knew I could do it and be good at it," Morgan said. "I'm a people person, and I like helping others."
What Do You Love About Working in a Skilled Nursing Center?
Morgan said that each skilled nursing role throughout her career has been a unique experience. In each new role, she has learned something new that gives her a different outlook.
"As a wound care nurse, I loved improving the resident's state of well-being and watching the progression of healing. As a charge nurse, you get to know the patients really well," Morgan shared. "As a Director of Nursing, I've continued grow as a nurse. I interact with the staff a lot more, which I love, and I like the feeling of a really strong team."
"My favorite part about working in a skilled nursing center is the team I work with," Ray shared. "If you do not have a strong team, you will not be a good Director of Nursing. The team members I have are the best at their jobs."
Ray does her best to make the residents feel loved. She likes to make daily rounds to speak to all the residents, and that means a lot to them.
What's a Positive Experience You've Recently Had?
Ray discussed that her community recently had their annual survey and they only received one tag, which means the community is almost deficiency-free.
"It's very rare for buildings to not get a tag in nursing," Ray stated. "That says a lot of how we run our building."
Morgan mentioned that the team at her community likes to get out on the floor and help with lunch, which has recently been a great experience.
"I love that time and being able to talk to the residents and help them," Morgan said. "Things can change every day and I like giving them the assistance that we can."
What's a Challenge You've Had to Recently Overcome?
"The job is hard," Morgan stated. "It's physically and mentally demanding. One challenge is trying to keep the balance of morale in current employees and staffing."
"Staffing and educating can be a challenge," Ray said. "Our main struggle is to make sure we're educating the staff enough."
Advice for Anyone Who Wants to be a Nurse or Work in Long-Term Care?
"You have to be a dedicated, hard worker," Ray discussed. "If your heart is not in it, you will not last in long-term care. Long-term care is unlike any other nursing care there is. You have to love your job and love the people you work with."
"Your heart has to be in it," Morgan said. "This is not the job to go into just for the money. It's hard work, and it takes a lot of love."
Celebrating Nurses Week
We asked Ray and Morgan how they usually celebrate Nurses Week.
Morgan said they ask each department to do something special for the nurses. Some examples she gave were muffins and mimosas (mock-tails), a pancake breakfast, tacos, goodie bags, and snacks.
Ray mentioned that her community usually plans something for the nurses that includes raffles and gifts. She mentioned last year they had a luau, and this year they're having a taco bar!
Saber Healthcare is Thankful for Our Nurses
Saber Healthcare is thankful for our nursing teams across all communities. They work hard each day to provide residents with the care and support they need.
Help us celebrate Nurses Week by thanking any nurses you know!
Saber Healthcare provides skilled nursing and rehabilitation services to more than 115 buildings across the states of Ohio, Pennsylvania, Virginia, North Carolina, Indiana, Delaware, and Florida. To learn more about our company and the services we provide, click here.
Saber Healthcare is an organization dedicated to providing consultant services to long-term care providers. This article is for informational purposes and is not meant to be seen as professional advice. Please consult with a medical expert before relying on the information provided.