Commitment + Clinical Leadership = Better Outcomes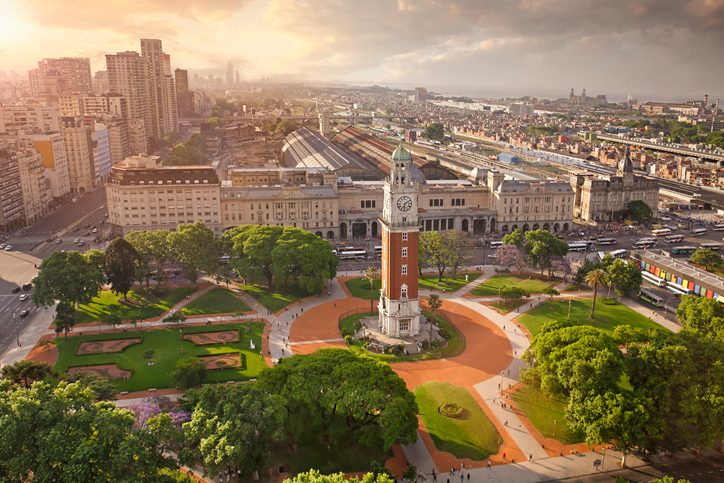 Port of Call: Discovering Buenos Aires
May. 8th, 2023
Here at Saber Healthcare, we offer a Port of Call program to the communities we serve. Each month, residents in participating communities will take a trip to a different port and enjoy food and activities related to each destination. For May, we're taking our passports to Buenos Aires to enjoy the rich culture of Argentina!
About Buenos Aires
Buenos Aires is the capital of Argentina and rests on the banks of Rio De La Plata. Currently, Buenos Aires is home to more than 15,490,000 people and is known as a "melting pot" because of the diverse groups that immigrated to Argentina throughout history.1 The architecture of Buenos Aires is a mix of Colonial, Neo-Gothic, and French Bourbon styles, all of which were influenced by European immigrants.2
Things to Do in Buenos Aires
A trip to Buenos Aires with the whole family will have something fun to do for everyone. There are over 130 museums in Buenos Aires, including the Museo Nacional de Bellas Artes, Xul Solar Museum, and River Plate Museum. Buenos Aires also has more bookstores per library than any other city, making this a city with many cultures to explore.2
Additionally, Buenos Aires has many restaurants that offer a taste of modern and traditional Argentinian cuisine. There are also many beaches in Buenos Aires where you and your family can go enjoy the sun, sand, and waves.
Seasonal Differences
When planning a trip to Buenos Aires, it's important to know that the seasons are different. They are in the reverse, which means the seasons are as follows:3
Fall: March-May
Winter: June-August
Spring: September-November
Summer: December-February
History of Food in Buenos Aires
The country of Argentina was largely inhabited by native Indians until European explorers arrived. From 1880 and 1890, it is estimated that around one million immigrants came from Europe, notably from Italy and Spain. Dishes such as pizza, lasagna, spaghetti, and British teas were some of the food items that the locals of Buenos Aires became introduced to during this period.4
Beef
Beef is Argentina's national dish, and it is estimated that Argentinians eat 56 kg of beef per year and per capita.5 In 1536, cattle were brought in by the Spanish conquistadors, and in the 19th century, the invention of trains and ships helped Argentinian businesses export beef to other parts of the world.6 One reason why beef became popular with Argentinians is Asado, which is a Spanish barbeque party where the food is cooked on an open grill. Asado comes from the word asar, which means "to grill."5
Empanadas
Empanadas are another dish that the Argentinians living in Buenos Aires currently enjoy from the Spanish colonization. Argentinians were able to put their own spin on empanadas, with most of their recipes using ingredients such as beef, onions, peppers, olives, and hard-boiled eggs. Empanadas can be filled with a variety of ingredients such as cheese, fruit, fish, or chicken.7
Provoleta
Provoleta is a type of cheese discovered by Natalio Alba when he felt that he needed a cheese to complement a roast. This cheese was discovered in 1940, and he wanted to cook meat on the outside while the cheese melted on the inside. Many southern traditions involve enjoying provoleta with asado before eating grilled meat.8
Our Port of Call Menu
The dietary department puts together a menu for each Port of Call. Here is what's on the menu for Buenos Aires, as well as the directions on how you can make these delicious recipes at home. It's important to note our recipes contain the size for a large party, but you can tailor these to your family's needs!
Locro Hominy Soup
4 # 10 CAN Hominy Canned
2 # 10 CAN White Beans Canned
1 CUP Olive Oil
3 TBSP Paprika
HALF TEASP Red Chili Flakes
4 TBSP Garlic Minced
4 CUPS Bacon Raw Diced
3 CUPS Onion Yellow Diced
3 CUPS Celery Diced
1 CUP Turmeric
2 TBSP Salt
2 TBSP Pepper Black Ground
1 #10 CAN Pumpkin Puree
4 GALLON Chicken Broth
Method
In a large kettle or a round pot, sautee onion, garlic and celery in olive oil and bacon, add seasoning and sautee for 3 minutes.
Add hominy, beans and broth. Bring to a boil then simmer for 25 minutes until hominy is tender.
Fold in the pumpkin puree until the soup is slightly thick.
Chicken Milanese
2 CASES Chicken Breaded Cutlets
4 CUPS Lemon Juice
4 CUPS Butter Unsalted
1 CUP Parsley Dried
1 TBSP Salt
1 TBSP Pepper Black Ground
Method
Melt the butter on low heat and combine with parsley and seasoning. Set aside.
Reheat the precooked Milanese breaded chicken in a 350 degrees oven. Then drizzle lemon sauce over.
Garlic Lemon Butter Sauce Pasta
10 LB Pasta Linguine
4 CUPs Butter Unsalted
4 CUPS Lemon Juice
1 CUP Parsley Dried
Method
Cook the pasta in boiling salted water for 7 minutes, then drain completely.
While the pasta is still hot, combine it with the butter, lemon juice, and parsley and fold until well coated.
Churros Con Dulce De Leche
120 EA Churros Precooked
120 OZ Caramel Sauce
Method
Reheat the churros in a 350 degrees oven for 20 minutes.
Cut the churros in half, then drizzle with caramel sauce
Activity Plans for the Port of Call
For our Port of Call program, the Life Enrichment teams create activity programs that allow our residents to explore the culture. For Buenos Aires, here are some of the fun and exciting activities taking place in a few of the buildings we offer services to:
London Health and Rehab: For this month's Port of Call, the Life Enrichment team will help the residents learn the History of Argentina. They will share 10 fun facts about Argentina and watch videos that showcase the Argentinian countryside. They are also going to decorate the tables with the centerpieces of the National Flag for Argentina.
Indian Lake Health and Rehabilitation: The Life Enrichment team has decorated the tables with the flags of Argentina. The team has also decorated the building with flags and other décor to help the residents get excited about visiting Buenos Aires. For the Port of Call, the dietary team will bake cupcakes with the flags along with some churros. The residents will also enjoy a video about the country and listen to a volunteer who used to live there talk about their experience.
Caring Heights Community Care and Rehabilitation Center: Caring Heights plans on having the residents enjoy the Buenos Aires menu designed by our culinary department. They will have the residents watch a travel video to get excited about visiting Buenos Aires. The residents will be involved in discussing some trivia, and there will be empanadas for snacks. The Life Enrichment team plans on printing out maps to use as placemats, as well as decorate the game room with flags.
Falls Run Nursing and Rehabilitation: For this month's Port of Call, Falls Run will have the residents make Argentinian flags. They will take a virtual tour to Buenos Aires and create their very own handprint art inspired by the Cueva de la Manos (Cave of the Hands) in Argentina. They will also make an armadillo craft because it is a part of Argentinian wildlife. The team will also show the residents the movie "Evita" for their movie night.
Sage Bluff Health and Rehabilitation: The Sage Bluff Life Enrichment team invited a dance studio to perform an Argentinian tango and other Latin dances for the residents and staff. The dietary team will provide churros as snacks.
Celebrating Buenos Aires
Saber Healthcare is proud to offer our port of call each month. We hope the residents enjoy Buenos Aires and everything it has to offer!
Saber Healthcare is an organization dedicated to providing consultant services to long-term care providers. This article is for informational purposes and is not meant to be seen as professional advice. Please consult with a medical expert before relying on the information provided.
Sources