Commitment + Clinical Leadership = Better Outcomes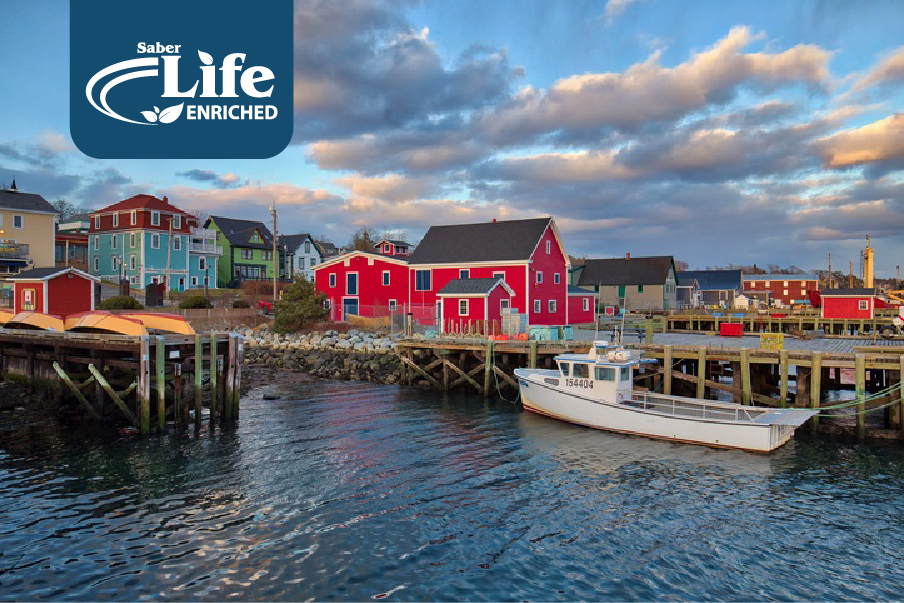 Port of Call: Our Trip to Nova Scotia:
Sep. 15th, 2023
Every month at Saber Healthcare, our Life Enrichment departments at participating communities provide our residents with an enriching cultural experience as part of our Port of Call Program. Our residents will take part in fun activities and enjoy the flavorful cuisine of our Port of Call city or country. This month, we will (metaphorically) pack our bags and passports and take a trip up North to Nova Scotia, Canada!
About Nova Scotia
Nova Scotia is a Canadian province located east of Maine. It is one of four provinces located on the Atlantic.1 The Northern part of Nova Scotia is home to the South Mountain, which runs parallel to the North Mountain. The Annapolis and Cornwallis Rivers flow between the North and South Mountains. In addition to the rivers, Nova Scotia has more than 3,000 lakes, streams and rivers.
There are about one million people living in Nova Scotia, with the majority living in the capital city of Halifax. The name "Nova Scotia" is Latin for "New Scotland2." The majority of Nova Scotians have a Scottish background, followed by Irish, French, Arab, and German. The first known people to live in Nova Scotia were the Mi'kmaq First Nation around 11,000 years ago.3
Things to Do
Nova Scotia is home to many outdoor activities as well as highly-rated theaters and museums.
Outdoor Activities
If you prefer the outdoors, Nova Scotia's beautiful coastline offers over 8,200 miles of beaches. The Halifax Waterfront is home to a two-mile-long boardwalk, restaurants, shops, museums and more. Take a drive an hour Southwest and you will find Peggy's Cove, home of the Peggy's Point Lighthouse. You can climb to the top of the lighthouse and see incredible views of the Atlantic Ocean.
While you are on the water, you can board a whale sightseeing cruise. On this cruise, keep an eye out for one or more of the twelve whale species swimming in the Atlantic. If you would like to explore the waters yourself, you are able to rent a kayak or canoe and enjoy the breathtaking coastline views with your family and friends.
Along the Gulf of St. Lawrence and the Atlantic Ocean in Northeastern Nova Scotia is Cape Breton Highlands National Park on Cape Breton Island. This national park offers hiking trails, cycling, golfing, camping, and more.4
Indoor Activities
If you enjoy spending time indoors, consider watching a performance at the Festival Antigonish Summer Theatre in Antigonish, just south of Cape Breton Island. This venue offers main stage and family stage shows of all types.
West of the Theatre, you will find the deCoste Centre for Arts and Creativity. This theater offers musicals, stand-up comedy, music tributes, and more. In addition to theaters, there are many historical museums to explore throughout Nova Scotia.
On the northern part of Cape Breton Island, you can visit the Alexander Graham Bell National Historic Site. This museum is dedicated to helping people Learn about Alexander Graham Bell's inventions through many exciting and informational exhibits and displays.
Additionally, the northern part of Cape Breton holds the HMCS Sackville where you can enter and explore one of Canada's Navy ships. While on the ship, you can listen to an audio guide explain the ship's history while looking at the corresponding exhibits.5
History of Food
The History of Food in Nova Scotia dates back to the winter of the early 1600s. During that time, French colonists ate various game such as geese, duck, beavers, rabbits, and racoon. In 1606, they established L'Ordre de Bon Temps or "The Order of Good Cheer." L'Ordre de Bon Temps was equivalent to what a social club is today. The colonists were trying to keep spirits of the people up while in the midst of a brutal winter.
Colonists were not the only people enjoying the new social club; the native Mi'kmaq people would join the colonists and bring their food customs with them. The Mi'kmaq people ate beavers, moose, rabbits, eels, shell fish, and cod. The food they ate was determined by the hunting and fishing calendar.6
More About Nova Scotia Cuisine
Nova Scotia is mainly known for its lobster. All year long, lobster fishermen fish for lobster off the coasts, which is why lobster is prevalent in most Nova Scotian restaurants.7 Additional popular Nova Scotian food dishes include:
Wild blueberries
Apples
Digby Scallops
Oysters
Donair (meat-filled wraps with garlic sauce, tomatoes, and spices)
Dulse (red seaweed)8
Port of Call Menu
The dietary department created a menu for our Port of Call. Here's the menu for Nova Scotia as well as the recipes for each dish. Each of our recipes is tailored to feed approximately 10 people but you can always adjust the size of the recipe to fit your needs!
Canadian Caesar Salad with Parmesan and Garlic Croutons:
10 CUPS Romaine lettuce chopped
4 TBSP Parmesan shavings
2 CUPS Croutons
10 POUCHES Creamy caesar dressing
Method
Combine all ingredients and portion accordingly.
Serve dressing pouch on the side.
Beef and Fries Poutine with Brown Sauce:
4 POUNDS Beef Stew Diced
2 CUPS Onions Diced Small
1 CUP Brown Sauce Powder
1 TBSP Minced Garlic
½ CUP Vegetable Oil
2 CUPS Beef Broth
10 CUPS French Fries Baked Crispy
2 CUPS Shredded Mozzarella
1 TEASP Salt
1 TEASP Ground Black Pepper
Method
Sautee beef in oil and garlic until a nice brown color is reached
Add beef broth and brown sauce mix well then simmer for 1 hour until beef is tender and well coated with sauce. Set aside
Bake french fries in a 350f oven until crispy
Serve poutine: fries first, mozzarella second, then topped with beef stew and gravy
Honey Roasted Brussel Sprouts:
5 CUPS Brussel sprouts
2 TBSP Honey
1 TEASP Salt
1 TEASP Grounded black Pepper
2 CUPS Frozen pearl Onion
4 TBSP Soy sauce
3 TBSP Vegetable oil
Method
Combine all ingredients and mix well. Roast in a 350f oven for 25 to 30 minutes
Canadian Blueberry Pie:
5 CUPS Blueberry pie filling
5 TBSP liquid egg
10 Vanilla ice cream cups
Method:
From a frozen status, brush pies with liquid eggs and bake them in a 350 f oven for 25 minutes
Cool down the pies overnight. Using a bread knife slice a 1/10 cut and plate individually with a cup of ice cream.
Activity Plans for the Port of Call
For our Port of Call, our Life Enrichment Department will create enriching and fun activities for our residents that highlights Nova Scotia's culture. Here are some examples of the fun activities that our communities are offering:
Waddell Nursing and Rehabilitation Center
Waddell is looking forward to traveling to Nova Scotia with themed decorations, fun facts, and points of interest. We will also enjoy some arts and crafts, such as building our very own light houses for each to keep!
Cortland Healthcare Center
For this month's Port of Call, Cortland will do a walking tour of Nova Scotia as well as a lighthouse painting.
Autumn Care of Salisbury
Autumn Care of Salisbury will go whale watching, make poutine, do a fossil craft, play Nova Scotia bingo, and enjoy a game of trivia.
New Castle Health and Rehabilitation Center
New Castle is showing a slide show on Nova Scotia, teaching the residents some fun facts, and enlisting the dietary department to have the Port of Call meal.
Stonebridge Health & Rehabilitation Center
Stonebridge is going hold a trivia game, make a fun craft, and enjoy a snack.
Saber Healthcare Port of Call
Saber Healthcare is happy to host a Port of Call each month. We hope the residents enjoy the fun activities and cuisine of Nova Scotia, Canada!
Saber Healthcare is an organization dedicated to providing consultant services to long-term care providers. This article is for informational purposes and is not meant to be seen as professional advice. Please consult with a medical expert before relying on the information provided.
Sources