Commitment + Clinical Leadership = Better Outcomes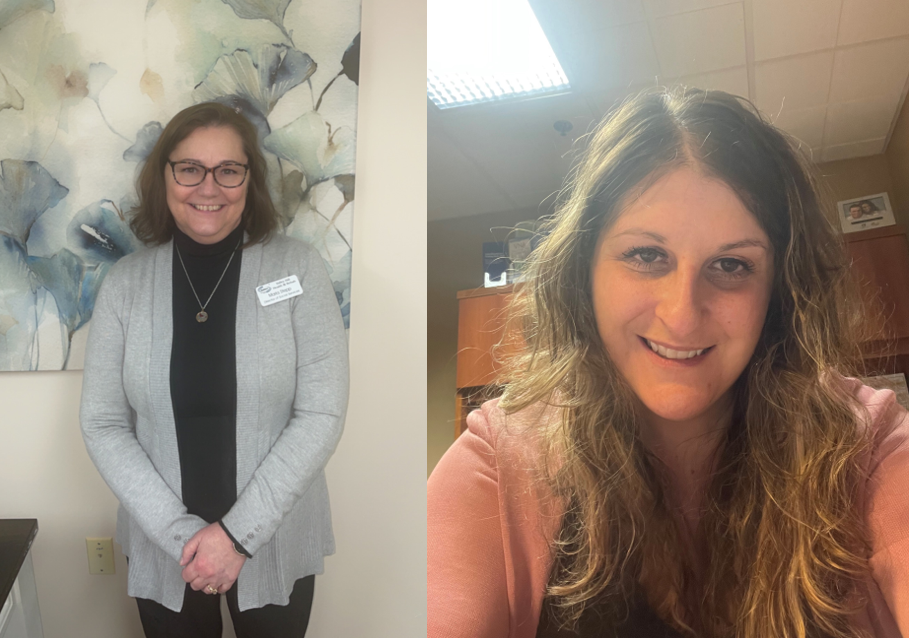 What are Social Workers and How Do They Help Others?
Mar. 18th, 2023
Social workers are present across many fields to assist and empower the populations they choose to help. Social workers are often the voice of those they work with, and they strive each day to make a difference in the lives of those they touch.
Here at Saber Healthcare, we employ social workers in the communities we offer services in. As we celebrate Social Work Month across our communities, we want to provide some insight into our social work team and how they make a positive impact on our residents.
We took the time to interview two social workers: Marla Stepp, Director of Social Services at Valley Hill Health and Rehabilitation Center, and Stacey Blackledge, Director of Admissions and Social Work at Scranton Healthcare Center.
"There's something about being able to touch lives that makes social work worth it," Stepp told us.
"I am thankful to work with my colleagues at Scranton Healthcare Center. I enjoy assisting with the complex cases I often encounter in my role. We have a great team at this community," Blackledge mentioned.
Tell us a little about your background
To gain some perspective on Stepp and Blackledge's background in the social work field, we asked them to share a little about their background.
Stepp has been in long-term care since 1994. She graduated with a degree in psychology and felt the desire to care for other people.
"This was a goal of mine because I wanted to make those I help have better lives," Stepp said.
Blackledge shared that she graduated from Marywood University in 2009, and she received her Masters in Social Work.
"After I got my degree, I started in a hospital setting before transitioning to long-term care. Now, I have been working in the skilled nursing field for ten and a half years," Blackledge told us.
Can you describe social work in your own words?
"Social Work is being there for the residents and families. You work with people to help them understand, even when they don't have a grasp of the situation. We perform various tasks to meet this goal. However, the most important part is being there to help the residents and act as their voice," Stepp shared.
"Social Work is a challenging yet rewarding field because you can interact with different populations. You'll never be bored and will always be surrounded by challenges. You are the first person the residents and family members will go to for support. It's a great responsibility, but you will make a difference in the lives of those who you see at their best and worst," Blackledge answered.
What qualifications/skills do you need to be a social worker?
"You will need a love of helping people and patience. You should also have knowledge of what each resident will need. You will have to be able to adjust when challenges arise and improvise when needed. I always say you can start with a list, but you have to be flexible and put the residents first," Stepp told us. "But most of all, you need a love of wanting to help people. You can learn how to do the paperwork – but what you can't learn is the desire to care and help others."
"You will need to go through school before you can work in the social work field. Many of the positions will require a Bachelor's degree. You can also get licensed, and you can work to obtain a Master's," Blackledge said.
Tell us about a typical day in your job
Both Stepp and Blackledge shared that their typical day can change at a moment's notice. However, they both gave us some insight as to what they work to accomplish in a day.
"When I get here, I walk around to see the residents and talk to them. I make phone calls to family members to catch them up on what they need to know. I'll talk to the residents, especially when they need someone to lend them an ear," Stepp stated. "We also perform assessments, attend meetings, and fill out paperwork. However, whenever a resident or family member knocks on the door, they will become the first priority no matter what I am doing."
"My day can change at any given point, but my main goal is to make sure the residents are cared for. Many of the residents here at Scranton Healthcare Center are in the vulnerable population. Each day, I will review admission paperwork when someone admits to the building, discuss discharge and care planning, and talk about emotional support concerns," Blackledge said.
What is your favorite part about your job?
"The residents, hands down. I love coming in, seeing them, and making them smile. I enjoy hearing the residents laugh and telling their stories. They help lift me up as well. There is something about the residents that make them close to my heart. I love them," Stepp told us.
"My favorite part about my job is helping the families and their loved ones get through this difficult moment of their lives, especially since COVID-19. Many families were and are still afraid to visit their loved ones, and it can be scary when they hear the word "nursing home," Blackledge commented. "However, I find it encouraging to hear the stories and words of wisdom the residents have to share."
What is one thing most people don't know about social work?
"Many people don't know all the behind-the-scenes work a social worker does. We talk with families to help them or explain what is going on to them. Many people don't know the time and effort that we put into this side," Stepp explained.
"You will be the first person that families come to see when they are at their worst. Having a positive understanding of your clients can help them when they are currently going through a difficult situation. They will always come to you, and you are the main point of contact," Blackledge answered.
What advice would you tell someone who aspires to be a social worker?
"Being a social worker is a very fulfilling role. You have to be there for the residents, but you should also remember to take care of yourself alongside everything else," Stepp said.
"You have to be a very special person to become a social worker – especially working for the senior population. I recommend that you choose an internship with which demographic you want to work with while you are exploring the field. You will experience different cultures and age groups, and will learn what you want to do," Blackledge advised.
Where does your positive experience come from in your role?
"Since I've joined Valley Hill Health and Rehabilitation Center, my positive experiences have been the residents and family members telling me "thank you" for being there for them. Today I spoke to a family member and she was very appreciative of what we do. I like knowing that I am making a difference," Stepp said.
"My positive experiences involve seeing residents come in at their worst and watching them get better. I am happy whenever I see one of them discharged out of the community to be with their family," Blackledge shared.
Saber Healthcare Appreciates Our Social Workers
Thank you Stepp, Blackledge, and all our other social workers for the work you do daily. We appreciate the time and dedication you show to our residents here at Saber Healthcare!
If you're interested in joining one of our teams as a social worker, check out our open positions.
Saber Healthcare is an organization dedicated to providing consultant services to long term care providers. This article is for informational purposes and is not meant to be seen as professional advice. Please consult with a medical expert before relying on the information provided.