Commitment + Clinical Leadership = Better Outcomes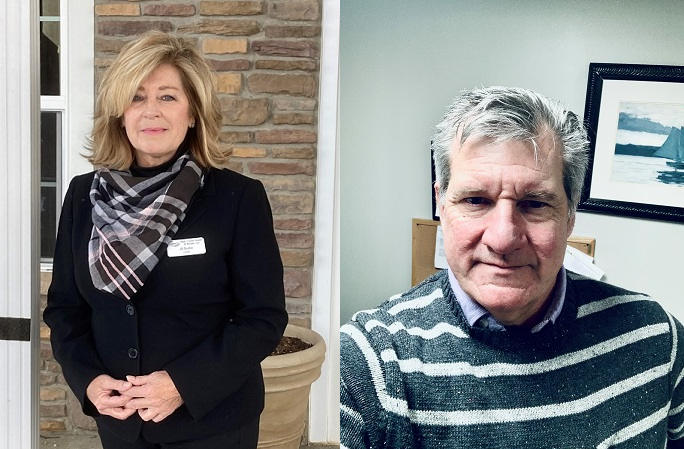 A Day in the Life of an Administrator
Mar. 16th, 2023
Photo, left to right: Jill Burke, Bernard Bryant
Administrators serve as leaders at their long-term care communities. They set an example with their continued efforts to promote quality of life for the residents they serve.
In honor of Long-Term Care Administrators Week, we talked with two Saber Healthcare Administrators to hear what a day in their life looks like.
Bernard Bryant joined Autumn Care of Raeford in 2017. Bryant began his career as a social worker in 1990, and he worked for 8 years at a long-term care community. Eventually, he decided to change careers and completed an Administrator-in-Training program. Since completing the program in 1998, Bryant has been working in the long-term care industry as an Administrator.
"An Administrator is only as successful as the individuals working under them," Bryant shared. "Not one individual can be successful running a facility by themselves."
Jill Burke has been the Administrator at Bath Creek Estates since 2016. Burke started her career in long-term care in 1989, and she has experience in various roles from sales to business development to management. She has also served on the Ohio Healthcare Association board of trustees as well as the National Center for Assisted Living board, where she worked to develop a Medicaid waiver for assisted living.
"I enjoy what I do," Burke stated. "It's my calling."
What Does a Normal Day Look Like as an Administrator?
Bryant and Burke gave us some insight as to what the day-to-day tasks may look like as an Administrator.
"I enjoy completing daily rounds in the morning to meet with the residents and staff because it helps me set the tone for the day, not only for myself, but also the community," Bryant stated. "I ensure the needs of the residents are provided for and attend meetings. I also have an open-door policy at Autumn Care of Raeford that encourages residents, staff, and family members to have a voice."
"My days can be very busy. My routine usually includes reading emails and nurses' notes, developing worksheets, and attending meetings," Burke said. "I do daily rounds and spend a lot of time on the floor instead of in my office. I meet with nurses, aides, and residents, and also like to help in dietary and activities to give them the support they need."
How Do You Organize Your Team?
"As department managers and leaders at a long-term care community, we have to be very flexible," Bryant shared. "The organization starts with our morning meeting with all department managers as well as our morning clinical meeting. In these meetings, we will have conversations that guide our team on the current needs at Autumn Care of Raeford. We utilize these meetings to help our staff be successful by giving them the tools that they need to perform at their best."
"I make sure to communicate and take the time to meet with staff," Burke stated. "We discuss any concerns that they may have, and come up with ideas for resolutions. I will follow-up and check in on staff members to ask for feedback on our progress. I believe that face-to-face communication is important for the team here at Bath Creek Estates."
What is Your Favorite Part About Your Job?
Bryant and Burke both stated that their favorite part about their job is interacting with the residents, staff, and family members. They also shared some positive experiences they've had at their communities.
"It's amazing to see the progress some of our residents make from our interdisciplinary programs," Bryant shared. "There have been so many successful discharges at Autumn Care of Raeford where some of our residents who were weak and deconditioned when they first came are able to leave with a smile. I'm always privileged and proud to be a part of that process."
"One real positive experience is coaching and watching your employees improve themselves," Burke said. "We've encouraged multiple employees to participate in local STNA classes offered by Saber. We've had 5 employees pass the test and become certified so far. It's a great way for them to grow in their career while pursuing their dreams of helping others."
What is a Favorite Memory You Have in Your Building?
"We created a wall of valor in honor of our veterans," Bryant shared. "We had participation from the veterans' families who brought in pictures and headshots of their loved ones. We took the photos and framed them on the wall. Creating this wall with the community was very memorable and such a great experience."
"I have so many positive memories at Bath Creek Estates," Burke said. "I love watching our staff grow to their fullest potential. Also, I enjoy sitting down and visiting with residents."
Advice for Those Interested in Long Term Care
Bryant and Burke gave some great advice to those who may be interested in long-term care or any type of healthcare management.
"Immerse yourself in the long-term care environment. Come join our setting and operation to see if it's truly something that you're willing to commit to," Bryant said. "There are going to be times where you will have to adjust your schedule to meet the needs of the residents. It not only takes an individual who is a leader, you should have a degree of trust for the department managers to excel at what they do."
"This is not a 9-5 job. You're going to answer your phone at night and come in to work at off hours. However, I find the time that I put into my role to be rewarding," Burke said. You're giving to people by making sure their needs are met. You're also building personal relationships."
Thank You to Our Administrators
Thank you, Bryant and Burke, for giving us some insight into a day in the life of an Administrator. Saber Healthcare is thankful for our Administrators and all they do on a daily basis to operate their communities and lead their teams.
If you want to learn more about Saber Healthcare and what we do, click here. If you'd like to join a team at one of our communities, click here to view open positions near you.
Saber Healthcare is an organization dedicated to providing consultant services to long-term care providers. This article is for informational purposes and is not meant to be seen as professional advice. Please consult with a medical expert before relying on the information provided.