Saber Healthcare Blog & Newsroom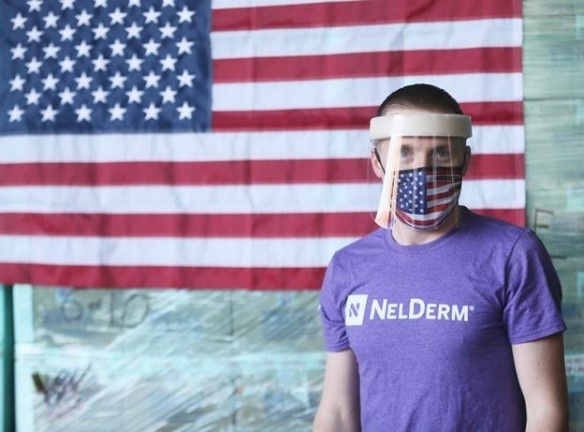 Saber Healthcare Group Receives Generous Donation from NelDerm
Jan. 13th, 2021
Saber Healthcare's communities received face shields from a local medical device company.
Cleveland, Ohio – Saber Healthcare Group received a benevolent donation from NelDerm of over 7,000 face shields.
Kevin Nelson, Founder of NelDerm, shipped thousands of face shields to each of Saber Healthcare's communities.
"Our whole mission is around innovation and making an impact in healthcare," said Kevin Nelson, Founder of NelDerm. "We had this asset that those on the frontline needed. I felt so fortunate to be in this position to help them out. What we've been able to do has allowed us to expand our mission. We've got what people need, let's pay it forward, and continue to support our community."
When COVID-19 began spreading, NelDerm made the decision to begin producing face shields. They did this with the desire to help healthcare workers who were in need of personal protective equipment. All of the healthcare workers at Saber Healthcare are extremely grateful and appreciative of this donation.
"I want to thank Kevin Nelson, President of Nelson Innovations, LLC and Founder of NelDerm for his generous donation," said Mike Demagall, Vice President of Population Health & Business Development. "His support to the communities he serves is commendable. A company that is willing to step up and help frontline caregivers during a pandemic is outstanding."
About NelDerm: NelDerm is a Northeast Ohio based medical device company with the mission to improve wound care for individuals with fragile, sensitive, or allergically reactive skin. Their unique wound dressings use a hydrogel border for superior comfort and reduction of injuries upon removal. During COVID-19, NelDerm pivoted to producing millions of face shields to help meet the demand for PPE.
About Saber Healthcare Group: Established in 2001, the Cleveland-based company has grown from two skilled nursing facilities to more than 105 skilled nursing and assisted living facilities in seven states (Ohio, Indiana, Pennsylvania, Delaware, Virginia, North Carolina and Florida). Saber's "On the Cutting Edge of Healthcare" philosophy has spurred its growth and the company to implement greater healthcare knowledge and technologies to serve residents and patients in better ways.