Commitment + Clinical Leadership = Better Outcomes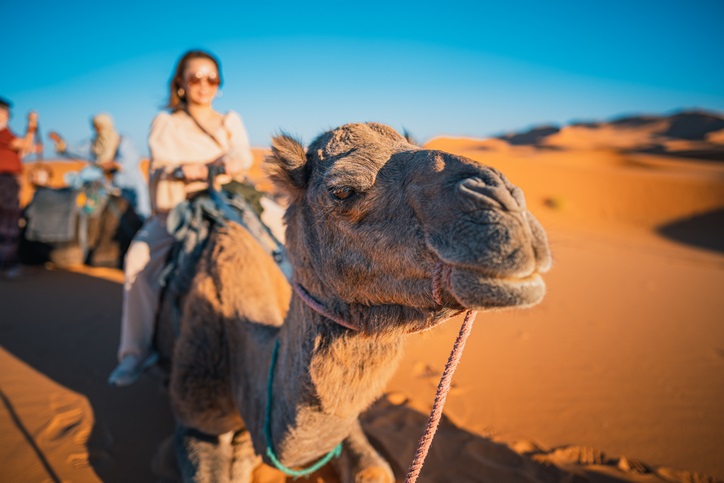 Port of Call: Our Journey to Morocco
Nov. 9th, 2023
Each month at Saber Healthcare, our affiliated Life Enrichment departments at participating communities provide their residents with an enriching cultural experience as part of the Port of Call Program. The residents will take part in fun activities and enjoy the delicious cuisine based on the Port of Call city or country.
This month, our affiliated communities will feature games, food, and activities based on Morocco!
About Morocco
Morocco, formally the Kingdom of Morocco, is a country in the northern part of Africa that sits Northwest of Algeria and south of Spain. This region is known as the "Maghreb," meaning "the west."1
Morocco has a diverse landscape with the Atlantic Ocean and Alboran Sea along its coastline, the Anti-Atlas Mountains and High Atlas Mountains in the southwest, and the High Atlas Mountains in the northeast.
There are over thirty-seven million people who live in Morocco, making it the 40th most populous country in the world. The majority of Moroccans are of Arab descent, with only 1% listed as "other." Morocco's official languages are Arabic and Tamazight, but many citizens will speak French for business and government matters.
Activities to do in Morocco
Morocco is known for its beautiful architecture and scenic historic sites. One of the top attractions in Morocco is the Jardin Majorelle. The Jardin Majorelle, located in the southwestern city of Marrakesh, is a large garden that sprawls over two acres. While there, you can walk through the labyrinth, admire the gorgeous Art Deco buildings, and take in the beautiful flowers and plants from around the world.
While you are in Marrakesh, you could visit the Bahia Palace. The Bahia Palace used to house members of the makhzen, or royal government, until the 20th century. On the grounds, you will find courtyards, galleries, and the residences of the former leaders. Throughout the palace, there are painted ceilings, stained-glassed windows, and grand archways.
Located just north of the Bahia Palace is the Madrasa Ben Youssef. Madrasa Ben Youssef was an Islamic college dating back to the fourteenth century. After the college shut down in 1960, it turned into a popular historical landmark. While on the college grounds, you can see the large columns, mosaics, sculptures, and courtyard featuring a marble patio.
If you want to explore Morocco away from the crowded cities, consider taking trip to the Cascades d'Ouzoud, which translates to Olive Falls. It is located 90 miles northeast of Marrakesh in Tanaghmeilt. The Cascades d'Ouzoud is a 350 feet tall waterfall that sits in the Atlas Mountains.
You have the option of touring the falls yourself, or you can have a mountain guide help assist you. At the bottom of the falls, there are various plants and olive trees, as well as monkeys, sheep, and other animals. You can also consider taking a boat tour around the lake and get an up-close view of the falls.
History of Food in Morocco
Moroccan food is influenced by all of the settlers and immigrants who came to Morocco. The first people to settle in Morocco were the Berber people. Berbers are those native to Northwest Africa.9 Berbers brought their food traditions to Morocco which included tagine, a meat and vegetable stew, and couscous, a type of pasta that is dressed with different spices and vegetables.
After the Berbers, the Arabs began to move to Morocco. The Arabs introduced their breads, grains, and spices to Moroccan cuisine. In addition, Arabs taught Moroccans sweet and sour cooking, which involves mixing nuts and dried fruit to a dish.
Moroccan food also became influenced by the French. In 1912, France gained control of Morocco. The French left a lasting impact on Moroccan cuisine. In present-day Morocco, there are cafés and patisseries throughout, as well as wine and ice cream served in many different restaurants.12
More About Morocco Cuisine
Present-day Moroccan cuisine is filled with spices, flavors, and influences from the early settlers and immigrants. One of the most popular Moroccan dishes is tagine, which was first introduced by the Berbers. Additional popular meals are:
Couscous
Loubia (white beans with a tomato sauce)
Harira (tomato soup made with lentils, fava beans, chickpeas, and tomato sauce)
Chebekia (fried sesame cookie with honey on top)
The dietary department created a menu for our Port of Call. Here's the menu for Morocco as well as the recipes for each dish. Each of our recipes is tailored to feed approximately 10 people, but you can always adjust the size of the recipe to fit your needs!
Moroccan Caesar Salad:
10 LBS of Diced carrots 3/4" steamed tender
2 CUPS of Cilantro minced
4 TBSP of Garlic minced
2 TBSP of Salt
2 TBSP of Pepper black ground
5 TBSP of Cumin ground
5 TBSP of Paprika sweet
1 CUP of Olive oil
1 CUP of Vinegar
2 TBSP of Coriander ground
½ TEASP of Cayenne
3 CUPS of Golden raisins
Method:
Combine all of the ingredients and fold well.
Cover and refrigerate until service time.
Lemon Chicken Tajine with Roasted Almonds, Olives, and Turmeric Potatoes:
40 LBS of Chicken thigh 4 to 5 oz skin on bone in
1 CUP of Turmeric ground
5 TBSP of Ginger ground
3 TBSP of Salt
3 TBSP of Pepper black ground
2 LBS of Onion minced
4 TBSP of Garlic minced
1 CUP of Olive oil
5 TBSP of Cumin ground
5 TBSP of Paprika
1 CUP of Vinegar
3 LBS of Olives green pitted
1 TEASP of Chili flakes red
8 Lemons seeded cut into thin slices
3 Cinnamon sticks
2 CUPS of Cilantro fresh minced
5 TBSP of Coriander ground
2 LBS of Almonds sliced
10 LBS of Potatoes peeled cut 1/8 cut wedges
Method:
Combine the marinade and mix well. Use 3/4 of the marinade to mix with chicken, almonds, olives, and lemon slices. Lay on a roasting pan, cover with aluminum foil, and bake for 45 minutes. Bake for an additional 10 minutes.
Combine potatoes with the rest of the marinade and roast for 35 to 40 minutes.
Moroccan Orange Cake:
3 BOXES of Corn muffin mix
12 CUPS of Coconut milk unsweetened
5 CUPS of Orange juice
8 CUPS of Sugar brown
4 TBSP of Cinnamon ground
2 TBSP of Ginger ground
2 TBSP of Nutmeg ground
1 TBSP of Clove ground
2 CUPS of Butter soft
1 TEASP of Salt
3 TBSP of Vanilla extract
8 CUPS of Milk
1 CUP of Orange zest
Method:
Combine all of the ingredients in a large mixing bowl and whisk until a consistent batter.
Transfer into a greased 2" hotel pan and divide evenly.
Bake at 350 F for 35 to 45 minutes or until the cake is fully cooked in the center and set.
Cool down completely then portion into 2"X 2" squares.
Activity Plans for the Port of Call
For our Port of Call, our Life Enrichment Department will create enriching and fun activities for our residents that highlight Moroccan culture. Here are some examples of the fun activities that our communities are offering:
Rocky Mount Health and Rehabilitation Center
For this month's Port of Call, Rocky Mount will be doing fun facts and trivia, decorating maracas, listening to music, and eating Moroccan snacks.
Homestead II
Homestead II will be having a Moroccan Mint Tea Party, doing a Moroccan Drumming activity for fun and fitness, and making a craft from legumes. We are also going to watch "Casablanca," and of course, enjoy our Moroccan Port of Call meal!
Piedmont Health & Rehab Center
Piedmont's residents will enjoy wine and cheese, wear Henna tattoos, and watch the movie Casablanca!
Clarksville Health and Rehab
Clarksville will be making tassels, beaded jewelry, and some mosaic art pieces. We will also watch videos about Morocco and listening to Moroccan music!
Conclusion
Saber Healthcare is proud to encourage the Port of Call program each month. We hope the residents enjoy the fun activities and cuisine of Morocco!
Saber Healthcare is an organization dedicated to providing consultant services to long-term care providers. This article is for informational purposes and is not meant to be seen as professional advice. Please consult with a medical expert before relying on the information provided.
Sources: