Commitment + Clinical Leadership = Better Outcomes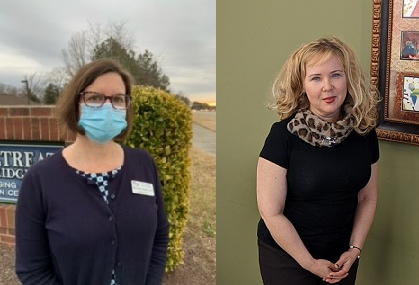 Learning about the Importance of Activities Directors
Jan. 26th, 2021
Photo, left to right: Michelle Nester, Marie Day
There are many individuals with different professions in our communities that make a difference in our residents' lives. It truly takes teamwork to provide the services and support that our residents need and deserve.
This week is National Activity Professionals Week, and we are celebrating our Life Enrichment team members and all the activities they make available for our residents.
Life Enrichment Directors, formerly known as our Activity Directors, make up part of this team. To learn more about what they do, we talked with Michelle Nester, Life Enrichment Director at Tyler's Retreat at Iron Bridge, and Marie Day, Life Enrichment Director at Oaks of Brecksville.
How did you get to where you are today?
Nester and Day discussed with us a little bit about themselves and how they got to where they are today.
Nester has worked in long term care for twenty-five years. She has experience working in the business office as well as central supply before moving to activities.
"I want to be out there with the people, not in an office," Nester said.
Day graduated with her Master's from Kent State University and has been working as a Certified Director since 2013.
Activity Director Requirements
We asked Nester and Day if there were any specific requirements to become a Life Enrichment Director.
The requirements may be different based on what state you live or work in. However, anyone who aspires to work in activities must be certified.
Nester works in Virginia and explained that Virginia Health Care Association offers a course that she took before she earned her national certification. She added that she has to renew her certification every two years.
Day works in Ohio, and said to become certified she completed two classes, had practical experience, and then took a national test.
Nester and Day both mentioned that every two years there are a certain amount of hours they have to complete in Continuing Education Units (CEUs).
What does your job entail on a daily basis?
We talked with Day and Nester about what they do at work on a daily basis. They both agreed that with their job, their duties can change each day.
"As an Activity Director, what we do changes every day with the need for the community," Day said.
Day shared that she does a lot of programming alongside the residents. She also plans and keeps track of important documentation. Day also likes to play guitar for the residents and she's been implementing more one-on-one activities.
Nester mentioned that she gets to meet all the new residents who come in for short term care. Her job involves some office work in addition to the activities.
"We get to do a lot of planning and leg work behind the actual group activities, and I assist with a lot of those activities," Nester said. "Every day is something new and different."
Is creativity a necessity?
When it comes to activities, planning, and keeping things exciting, we asked our Directors how important creativity is in their job.
"It's a form of self-expression and it's therapeutic," Day said.
Nester would agree that creativity is extremely significant for their work. She said they cannot take themselves too seriously.
"This past year has been so different than anything we've ever done," Nester said. "We've really had to come up with better ideas and how to make it work."
How does this help residents?
Activities play a significant role in our communities because they keep our residents inspired and motivated. We asked Nester and Day to explain how these activities help our residents.
Nester said that during an assessment when a resident comes in, they figure out what the resident liked to do before joining the community. Sometimes they're not able to do the exact same things, but they can make adjustments.
Day mentioned that she tries to plan and adjust activities based on each resident. She said she recently gave manicures to the ladies, and she made sure to play their favorite music while doing so.
Nester added they have to have a variety on the calendar to meet everyone's wants and needs. Not every resident is going to be happy with every activity.
Our Life Enrichment Directors do their best to engage residents based on their own preference or interests.
The importance of activities
Nester and Day agreed that activities are extremely important in our communities.
"You want residents to be happy and enjoy where they're living," Nester said.
Although some residents in long term care communities may not have same abilities they once used to, our Life Enrichment team tries to help them reach their goals of leisure time.
"I think activities gives residents quality of life and makes them smile," Day said. "It gives them purpose."
Different activities
When it comes to activities, our team has many creative ideas.
We know the Activities Department has drastically changed in the past year due to the pandemic, but our Directors have made the change positive.
Day mentioned her community has an art auction that takes place every year where the residents display their best piece of art. They're still carrying on the tradition this year, while following the state and federal guidelines.
Nester discussed the variety of activities they incorporate into their community, including food-related activities and door-to-door activities.
"This is one of the biggest joys of what I do," Nester shared. "Whether it's a catered event or playing a simple game with a paper plate on top of your head, someone enjoys it."
What is your favorite part about your job?
It is evident how much these two enjoy their job and interacting with the residents each day. They both said their favorite part about their job is the residents.
"I love to interact with the residents," Day said. "I love to connect with them and think I made their day a little brighter."
"I love my residents," Nester said. "When I come to work, it's like I'm coming home."
Saber Healthcare Appreciates our Life Enrichment Team
Saber Healthcare is extremely appreciative of our Life Enrichment team. They create and implement many activities for the benefit of our residents. Thank you, Michelle Nester, Marie Day, and all our Activity Directors for all you do.
If you're interested in joining our life enrichment team, check out our careers near you.
Saber Healthcare is an organization dedicated to providing consultant services to long term care providers. This article is for informational purposes and is not meant to be seen as professional advice. Please consult with a medical expert before relying on the information provided.