Commitment + Clinical Leadership = Better Outcomes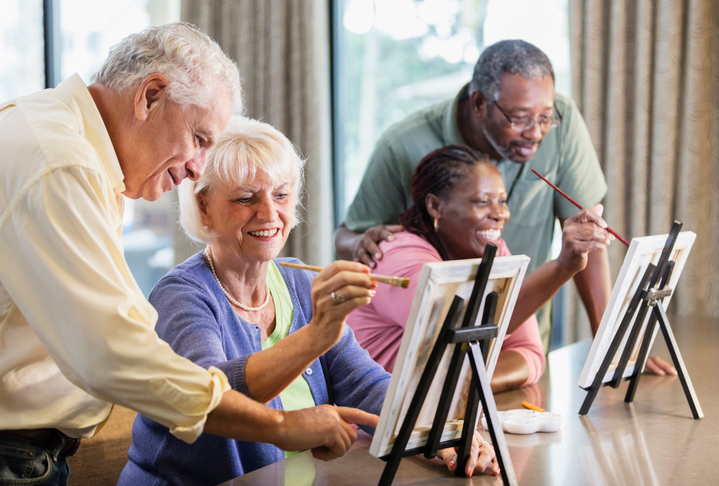 List of Hobbies for Seniors
Jan. 13th, 2023
When seniors retire, their lives become open to exploring different activities and interests. Hobbies are also a great way for seniors to pass their hours now that they don't have to work full-time or care for children.
Hobbies for seniors are also important because:
They can give seniors a sense of purpose. Many seniors will be looking for things that they can do with their time, and hobbies can give them a sense of fulfillment.
They can prevent stress and anxiety. Hobbies can help seniors relax and feel happier, which can prevent them from feeling down.1
They can help seniors continue to learn. Whether it's a new skill or talent, seniors can continue their education through their hobbies.
They can meet people and make friends. Many seniors may feel lonely during retirement, and hobbies can give them a chance to meet other like-minded people.
How to choose the right hobbies for seniors
If you're helping a loved one find a new hobby, you may want to help them invest in the right one. A few things to consider include:
What are the costs they are willing to pay for a new hobby?
Does your loved one like being active or staying at home?
Is your loved one creative?
Does your senior loved one have any physical limitations?
Does the person you know want to learn a new skill?
Does your loved one enjoy doing activities with others in a social setting?
Is your loved one looking for a new challenge?
These questions can help give you and your loved one an idea of what hobbies on this list may work best.
Outdoor hobbies
Gardening
Gardening is a great hobby for seniors because it can help them get fresh air while working with their hands. Gardening can be as simple as planting a few flowers or finding fun ways to grow delicious vegetables. There are also some benefits of gardening such as burning calories, lowering stress, and improving hand strength.2 Gardening can also be combined with other hobbies, such as cooking.
Hiking
Hiking is an active hobby for retirees to help them move and explore new places. Hiking can be done on a nature trail or a challenging terrain, such as a mountain. Hiking has also been scientifically proven to help reduce blood pressure and reduce the risk of heart disease, which can help keep a senior healthy as they age.3
Fishing
Fishing is a fun activity for seniors who want to spend a relaxing afternoon by a lake or river. Many parks offer fishing spots where people can meet and talk to one another while they fish. If your loved one decides to go fishing, make sure to review a park's policy for licensure and rules.
Biking
Biking is a good option for older adults because it is low impact, which means it puts less stress on the joints. A bike ride can help a senior build their stamina and keep their muscles strong. Bike riding can be done in the neighborhood or a park that offers plenty of smooth trails to ride through.5
Bird Watching
Does your senior loved one enjoy sitting on the patio? Bird watching is a fun activity that seniors can do any time during the day. There are many options for setting up bird feeders to attract different types of birds. Someone who loves bird watching can capture pictures of birds they see and use reference books to learn more about the species that they will find in their region.
Sports
Sports are a great way for older adults to get outside and stay active! Whether your loved one enjoys football, basketball, tennis, baseball, or another physical activity, sports can be a great way for older adults to stay active in the community. Some community centers will offer team sport nights to help seniors play against others in their demographic.
Golfing
Golfing is a fun hobby for seniors who want to expand their social circle while spending time outdoors. Many golf clubs can help seniors make friends while they play. This can be a great way for seniors to relax while meeting people with the same interests.
Dog Walking
Many pet owners in the neighborhood need someone to care for their dog while they're at work or school. A senior who loves animals may want to consider dog walking in their free time. This will give them the chance to care for a pet and connect with animals in their local community.
Camping
Camping is a fun outdoor hobby for older adults who love the outdoors. Camping can help seniors explore nature while spending time with their friends and family. If your loved one used to be a boy scout or camped as a kid, this can be a way for them to reminisce on their childhood.
Swimming
Swimming is an exciting activity that can help seniors stay active during the summertime. Swimming is low-impact, which makes this hobby accessible to most older adults. Swimming is a full-body workout and can help seniors burn calories while having fun.
Boating
Many retirees enjoy going on boating trips to explore different lakes and oceans. Boating can be as simple as enjoying the ocean or lakeside breeze, or connected to another activity such as snorkeling or fishing. This can be a great summer hobby where family and friends can gather together to enjoy a day out on the water!
Indoor Hobbies
Reading
Who doesn't love curling up with a good book? Reading is an inexpensive hobby where seniors can explore different works that they are interested in. A retiree can reread classics they enjoyed throughout their childhood or find new books where they can discover new up-and-coming authors. There may also be local book clubs for older adults that are hosted by libraries and bookstores to help your loved one make a new friend.
Writing
Writing can be a good hobby for retirees because it can help them get creative. Writing can be simple as using a journal every day, or a bigger endeavor such as creating a novel. Whether your loved one is looking to write fiction or nonfiction, all someone needs to get started is paper and a pen!
Movies
If your loved one enjoys filmography, movie watching may be a great hobby for them. There are many films from different eras that can be explored now that a senior has more free time to watch them. Movie watching can also be done with others, and seniors can share their newfound favorites with the family!
Cooking
Cooking is a fun hobby that anyone at any skill level can explore! There are many different recipes and cookbooks seniors can use to experience foods from different cultures. If your loved one has their own kitchen, they can find recipes where they can use equipment that they already have in their own home.
Meditation
Mindfulness and meditation can help retirees learn how to relax and focus their minds. Meditation is also proven to help improve sleep, which can help seniors who struggle with insomnia get better rest at night. There are different styles of meditation practices, with some being done in a group setting while others that can be practiced in the home on your own. Meditation apps are also available to help people track their mindfulness journey.
Fitness Classes
Gyms and fitness centers may offer fitness classes for seniors who are interested in maintaining their physical wellness. Classes can range from cardio to weight lifting, and some classes are available to people with different interests and skill levels. If your loved one has any physical limitations, tell them to talk to their doctor before enrolling in a fitness class at the gym.
Antiquing or Collecting
Is your loved one interested in collecting something? Whether they enjoy antiques, action figures, cards, records, dolls, stones, or vintage clothing, collecting can be a hobby that can keep seniors busy. They can spend time organizing their collection in their home and finding the best ways to display their passion!
Museum Visiting
If a retiree enjoys history, visiting different local museums can be a fun way to pass the time. There are many different museums in many nearby cities, some of which may change out their displays every so often to encourage frequent visitation. Some museums will also offer tours to help walk their visitors through the history of the objects or artwork.
Board Games
Board games are a great way to help keep a senior's mind active while socializing with others. From Monopoly to trivia-based games, there are plenty of board games available to seniors of all interests.
Puzzles
Puzzles can be a good way for seniors to pass the time while using their brains. There are many different types of puzzles, from jigsaw puzzles to riddle-based ones. This can be a good way for seniors to destress while keeping their brains active.
Learning New Skills
Painting
Painting is a creative hobby that seniors can learn at any age. Many self-help books can teach someone interested in painting techniques such as color and style. Many local community centers and colleges may also offer senior painting classes to help older adults explore their creative side.
Languages
Is there a language that your loved one has always wanted to learn? Languages are a great way for seniors to immerse themselves in another culture while learning a new skill. Learning a new language can help someone be able to enjoy media such as books and television shows from another country.
Jewelry Making
Jewelry making is a fun pastime where seniors can make their own unique necklaces and bracelets. This can be a way for seniors to explore art and fashion for an affordable price. If your loved one finds that they have a talent for jewelry, they may be able to turn it into a small business on the side!
Computers
Many seniors may not be as knowledgeable about computers as those in the younger generation. However, learning how to use a computer can be a fun hobby for seniors so that way they can learn to connect with others on the internet. A computer can also be a fun way for seniors to play games virtually or experience their favorite shows with the click of a button!
Singing/Musical Instrument
Singing or playing a musical instrument can be a great way for seniors to connect to music as they age. Seniors will have the time to study music and learn how to apply their skills to singing an instrument or singing. Seniors can also join a local choir or musical group that allows them to meet others who like music.
Knitting
Many retirees enjoy knitting in their free time because they can use their hands to create something new. Knitting is a fun way for a senior to create their own articles of clothing such as hats and gloves. Some seniors like to knit in a group together, and there are knitting clubs in local senior centers and neighborhoods.
Magic Tricks
Does your loved one enjoy being part of the entertainment? Magic tricks can be a fun way for seniors to make others happy while exploring a new art form. They can consider performing their tricks at local events to show off what they've learned.
Hobbies that Give Back
Teaching
Many seniors will feel joyful passing down their knowledge and skills to the younger generation. There are many mentoring options for seniors, from volunteering at local events to teaching part-time at a college. This can be a great way for older adults to help others explore the same passions as them.
Volunteering
Volunteering is a way for seniors to stay connected to others in the community. Many churches, animal shelters, and local groups are always looking for volunteers to help staff events. A senior who wants to help a cause should consider volunteering now that they have the time to give.
Start a local group
Some seniors may feel lonely as they age, and they may not be able to find a group in their local area for the hobby they enjoy. A senior can start their own group for their passion, whether it's art, music, bible study, or something that they enjoy doing. This can be a way for an older adult to connect to others while using their leadership skills.
Help the Senior in Your Life Stay Active
Now that you have some ideas for hobbies for retirees, you can help your loved one find the best fit for them!
Here at Saber Healthcare, our Life Enrichment departments at the communities we serve help seniors find ways to stay engaged all year long. From crafts to sports, our Life Enrichment departments work to provide programs that help seniors explore and engage in different hobbies.
Saber Healthcare is an organization dedicated to providing consultant services to long-term care providers. This article is for informational purposes and is not meant to be seen as professional advice. Please consult with a medical expert before relying on the information provided.
Sources